The Way Documents were managed
In most of the organizations, ISO 9001, ISO 14001, ISO/TS 16949, IATF 16949 documentation has been managed in the form traditional paper / hardcopy. It takes efforts to print and distributing it to its intended user and reader. In some cases, the paper gone missing before it reaches its designated reader/user. It leads to loss times and resources, or could even cause either business or operation interruption if not failure.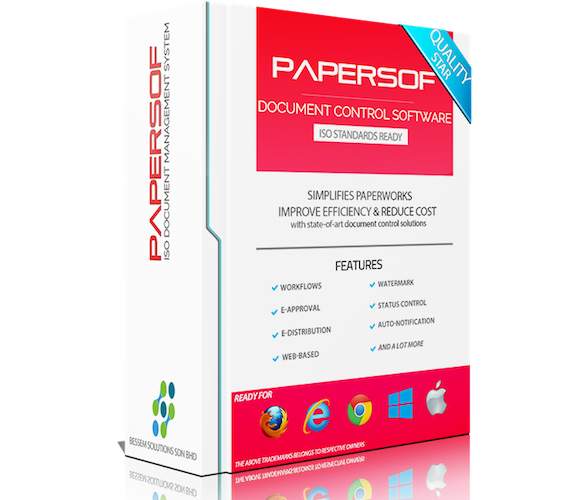 Effective Solution: PaperSOF
PaperSOF is a web based documents management solutions which enable you to establish, distribute, manage document revision and approve documents electronically within your organization. It has a powerful workflow engine to enable you to establish virutally any workflow you need. It saves paper and times of handling paper flying around. It can be installed in the cloud or in your company server.
It's designed for ISO 9001, ISO 14001, ISO/TS 16949, IATF 16949, GDPMD, and other Management Systems. GOOD NEWS: PaperSOF is ISO 9001: 2015, ISO 14001:2015 and IATF 16949:2016 ready. PaperSOF reduces cost, ease your paperworks and improves efficiency!
Contact PaperSOF
Log on PaperSOF to know more | To know The benefits of PaperSOF | Log on PaperSOF to know more.